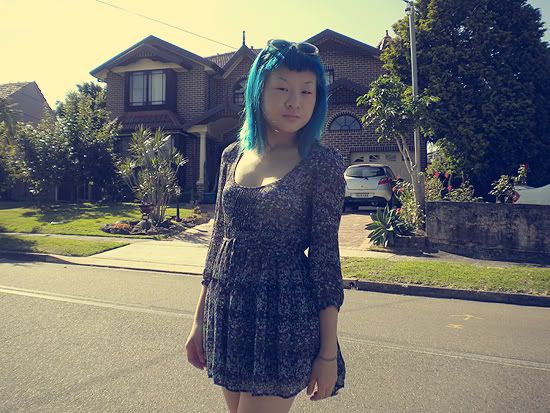 Dress: Atmosphere, thrifted
Shoes: Jeffrey Campbell,
Edge of Urge
Sunglasses: Paddy's Markets
This dress is my newest thrifted treasure ($4!) and I've affectionately nicknamed it the mullet dress because it's a little longer in the back. Even so, it's still somewhat scandalously short so I ended up wearing a pair of shorts underneath.
A funny story about this dress: in the thrift store, this dress was completely shapeless on the hanger, but I noticed the Primark tag (£10.00) and immediately snatched it up. I bought it without trying it on. I do that sometimes... The thing is, I find English things...exotic, I suppose. Even though I know that Primark is one of the cheapest clothing chains in price (and quality too, probably), the fact that it's English completely negates that fact in my mind. Truth is, a boring, ordinary English brand is just a nice change from the boring, ordinary Australia brands. :)
And it's my first outing in my new shoes! They're amazingly comfortable despite the 5-inch heel, but I still felt very much like a newborn lamb for the first few minutes I had them on. They're so much fun, though, and the neutral shade of pink is surprisingly versatile. I can't wait until colder weather so I can clash them with teal tights!
xx